As fall approaches and temperatures begin to drop, men's fashion follows a similar pattern: it emphasizes warmth and comfort. Fall and winter are both colder seasons when it gets harder to get out of bed; the low temperatures definitely make it harder to progress through the day, so it is vital to stay warm. Fall fashion takes matters into its own hands to provide stylish items that reduce the effects of the cold and still make you look great. 
Hoodies
If sweaters are still too warm for the fall season, then hoodies are the perfect choice for autumn. Its versatility makes it a prime choice for everyone, as there is bound to be a certain color, fit or graphic that fits any individual. Popular brands such as Stussy, Fear of God Essentials and Y-3 as well as designer brands like Balenciaga, Alexander McQueen and Gucci offer stylish options that will make you want to wear them not just for the reason of staying warm. They are also easy to style with any bottoms and establish an overall warm, comfortable look to the outfit that makes them perfect for fall.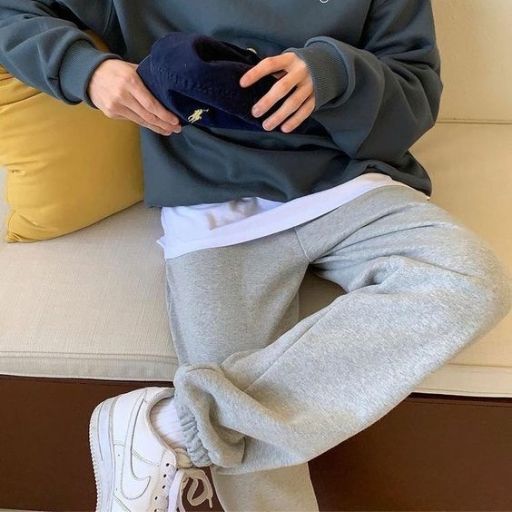 Sweatpants
It's getting a little too cold to wear shorts, so perhaps it's time to bring out the sweatpants. They serve as a perfect pair of bottoms that complement hoodies, enhancing the cozy look. To avoid making the outfit look too lazy, accessories can really help elevate the overall style. Like hoodies, sweatpants are both comfortable and warm, which makes it the perfect pick for a colder season. MM6 Maison Margiela is a good choice for long, baggy, simple sweatpants, while Off-White and Palm Angels have more design-heavy logo sweatpants instead. 
Coat
If the casual look isn't exactly what you're looking for, then a coat is bound to keep you warm and make you look more sophisticated in fall. Without a doubt, coats are made for much colder climates, so if you live in an area with warmer autumn weather, then maybe this isn't the best choice. However, for those who live in places where fall weather is already too chilly, then a coat will definitely protect you from the cold while making you look stylish. Burberry's Wool Cashmere Tailored Coat is a classic option; some coats may look too big and bulky, but this option is not one that will do so. If the tailored coat is too posh for your look, then consider Acne Studios for a more casual option.